Hen Harrier Days began in 2014, with four events held across England, in Northumberland, Lancashire, Derbyshire and Dorset. They have evolved over the years, even going completely virtual in 2020 due to the global COVID-19 pandemic. Hen Harrier Days can take a range of formats, as long as they raise awareness of hen harriers – this could include inviting speakers to share their experience with an audience or taking a tour of the countryside to look at where hen harriers live and the dangers they might face.

Many people and organisations have contributed to these events over the years. Artists, writers, young people, researchers, politicians and the police have all given their time and expertise. We want to build on this diversity so that everyone who loves nature and wants a better environment for people and wildlife can join in. Below is a brief look back over the years.

Below is a brief look back over the years.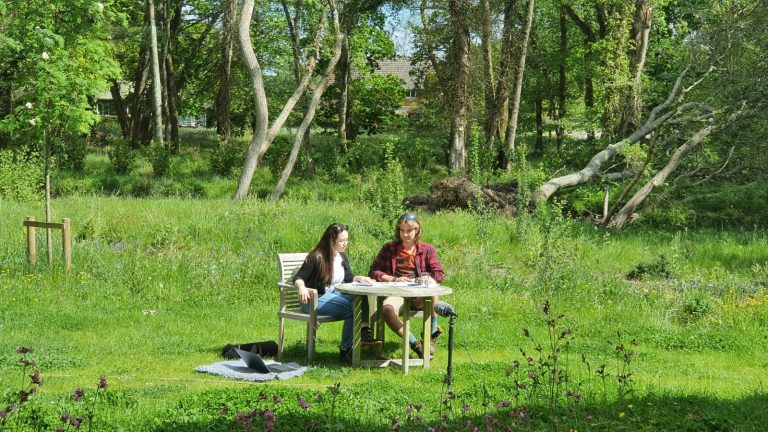 Skydancer Day was hosted by Megan McCubbin and Hen Harrier Action trustee Indy Greene. A main focus of the show was our plans to film a hen harrier nest and put satellite tags on three of the chicks, with contributions from Stuart Spray (Tarras Valley) and Nigel Butcher (RSPB).
The year started with a new online event: . Skydancer Day, named for the hen harrier's famous nuptial display, celebrated spring in the uplands, with pieces on the return of moorland birds, plans to turn a grouse moor into a nature reserve, and some lovely video material. The programme also included some hard hitting material on the ills of raptor persecution, and a great contribution from Olivia Blake MP, new species champion for the hen harrier. Click on the picture for more information and to access all the content, or here. We also held a second Hen Harrier Day Online, with a mix of music, childrem's wildlife writing, reporting on the good and the bad of the uplands - and news of our nest camera.
The sixth annual Hen Harrier Day fell in the middle of the coronavirus pandemic and resultant lockdown. All the 'actual' events planned across the country had to be cancelled (though there was a brilliant micro-event on Langholm Moor, with a cake). So we moved entirely online, and Hen Harrier Day Online was born. Encompassing a whole host of exciting new content, and a vast number of contributors and volunteers to support it, the event was a huge success. Click on the picture for more information and access to the content.
2019
Our fifth anniversary saw a change of approach with one large national event at Carsington Water in Derbyshire. Speakers included Chris Packham, Iolo Williams and other well-known faces. With numerous stalls and activities, some 2,500 people joined in. Maybe we'll do something similar in another five years' time – who knows
2018
Again there were events in more new places, including Stratford-upon-Avon, and Hebden Bridge (where a major local concern is that flooding is worsened by rapid run-off from the grouse moors above). In Sheffield, a group went on a 'moorland walk' and in the Highlands the Chief Executive of the Cairngorms National Park, Grant Moir, gamely responded to questions such as why it might not be better known as a 'National Grouse Park'. Overall attendance was up again, at about 1,200.
2017
More new places joining in – including the Cairngorms National Park and Sheffield, the first in a city-centre location. Over 1,000 came to the Dorset event to hear Chris Packham and Gill Lewis amongst others. Loch Leven, north of Edinburgh, was a great family occasion and included the RSPB Director for Scotland competing to make the best playdough hen harrier. There were 10 events, from Rum and Eigg in the Hebrides to Clitheroe in Lancashire and Rainham Marshes near London.
2016
2016 brought the London event, with hundreds attending in warm sunshine at Rainham Marshes. Similar numbers turned out at Edale to join Tim Birch of the Derbyshire Wildlife Trust urging change: "We believe everyone who visits the Peak District should have the opportunity to see some of our most spectacular wildlife. The hen harrier is a symbol for all the species and ecosystems we wish to see thrive." A total of 11 events around the country also included, for the first time, two in Northern Ireland.
2015
Seven Hen Harrier Days included another big event in Derbyshire, following a sold-out conference in Buxton with contributions from artist Jeremy Deller, Chris Packham and others. Arne in Dorset saw Lush founder, Mark Constantine, talking about their work to support satellite tagging, and the event was graced by a very rare bird – a black stork. Sadly, persecution is such that an event on Mull was the only one where those attending had an opportunity actually to see hen harriers on the day.
2014
The first year, now with near-mythic status. Hurricane Bertha arrived at the Upper Derwent Valley at the same time as us. It was very, very wet! But it was a great event and many of the 'sodden 570' have been to a Hen Harrier Day every year since. One memory is of a representative (equally wet) of the Moorland Association videoing the whole thing. Evidently we were worthy of their attention even then. There were other spontaneously organised events that year too, in Lancashire, Northumberland and Dorset.
Over the years, Hen Harrier Day has been supported by many organisations including in particular Birders Against Wildlife Crime (BAWC). Then the 2019 event was put together by Wild Justice – Chris Packham, Ruth Tingay and Mark Avery, each of whom has been a tireless supporter from the outset. Many, many others have organised and provided support too, whether getting a local event together, providing the site or offering logistical and other support, often entirely free. Thank you to all of them.