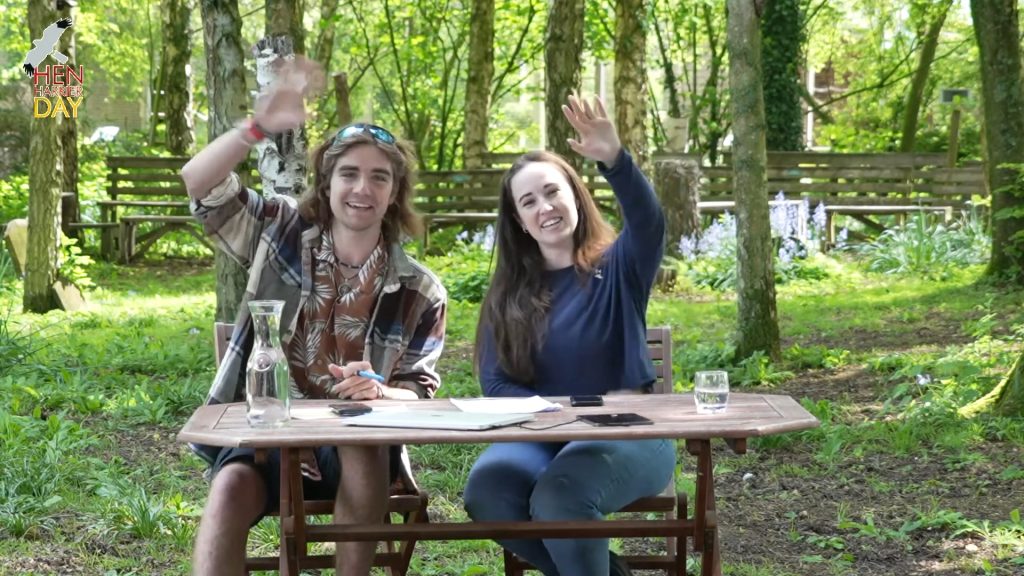 Goodbye from Megan McCubbin and Indy Kiemel Greene as they wrap up Skydancer Day 2023 at The Hawk Conservancy Trust
Broadcast Live on YouTube from The Hawk Conservancy Trust on 7th May 2023
This year's Skydancer Day was the fourth in the series organised by Hen Harrier Action. Hosted for the second year running by TV wildlife presenter Megan McCubbin and Hen Harrier Action's Indy Kiemel Greene, an RSPB Youth Council member, the rich and varied programme covered a wide range of conservation issues.
The theme for this year was 'Survival' and if you didn't get a chance to watch it live, you can view the whole broadcast on our YouTube channel.
Some of the highlights included:
The RSPB's 2023 Hen Harrier Survey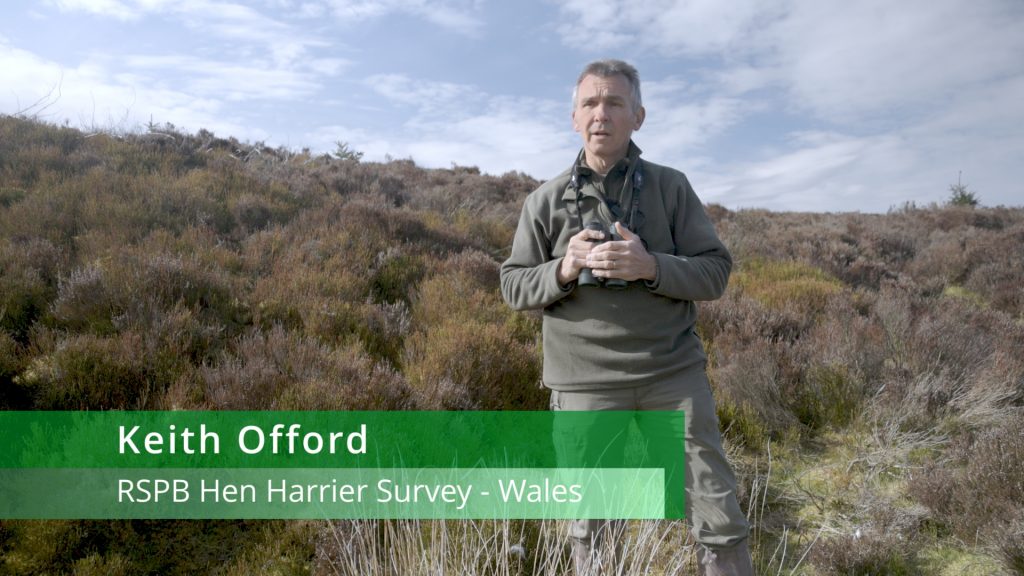 Dr Simon Wotton, Senior Conservation Scientist at the RSPB, talked about this crucial national survey, conducted every six years to establish a baseline of the breeding population of hen harriers. The last survey in 2016 showed a significant decline, so we are hoping for better news from this year's study.
The film includes interviews with two of the survey field workers – Ian Thomson in Scotland; and Keith Offord in Wales, where we learn that hen harriers are thriving in the absence of grouse moors.
Megan and Indy interviewed Dr Campbell Murn, Head of Conservation, to find out more about the crucial raptor rehabilitation and conservation work at the Trust.
The Tarras Valley Nature Reserve
Filmed on location at Tarras Valley, we spoke to Jenny Barlow and Kat Mayer about the successful community buyout of over 10,000 acres of land including upland moor, ancient woodland, meadows, peatlands, and river valley, which is now being restored for nature to support a large range of wildlife.
We learned that already, five hen harrier pairs nested last year and produced 13 fledglings, just one of the many early successes.
Lucy Lapwing Live Interview
Lucy lives on the Isle of Bute, and described to Megan and Indy how she is enjoying seeing divers in full breeding plumage and frequent sightings of hen harriers, ospreys, and white-tailed eagles
Jenny Shelton, RSPB Investigations Team
Jenny talks frankly about the work of the Investigations Team and some of the horrific cases of raptor persecution the team are currently handling, working with the police.
These include a red kite found near death on a grouse moor in County Durham, peppered with shot, and Anu, a satellite-tagged hen harrier which stopped transmitting while roosting for the night on a grouse moor.
The satellite tag was found later in suspicious circumstances, more than 10km from the roosting site. The harness had been deliberately cut, and there was no sign of the bird.
Megan and Indy were joined by Emily Hunt, last year's winner, and children's author Gill Lewis, to launch this year's competition.
As Gill said when announcing the winners last year "Words have the power to change hearts and minds; they inform, engage, enrage and empower people. Young voices calling for change need to be heard. The future ecologists, town planners, politicians, and scientists must have the natural world at the core of all their decision making".
The full details of the competition and all the winning entries from last year can be found here.
Hen Harrier Winter Roosting Behaviour and Starling Murmuration
To close, some stunning film footage of hen harriers circling a winter roost, and a spectacular, swirling starling murmuration to enjoy.
Megan and Indy discuss the mathematics involved in the astonishing and precise co-ordination of thousands of starlings when they are creating shapes in the winter sky at dusk.
Don't forget, you can still watch and enjoy all of these films and interviews on our YouTube channel.
It's a Wrap: Feedback from Indy and Paul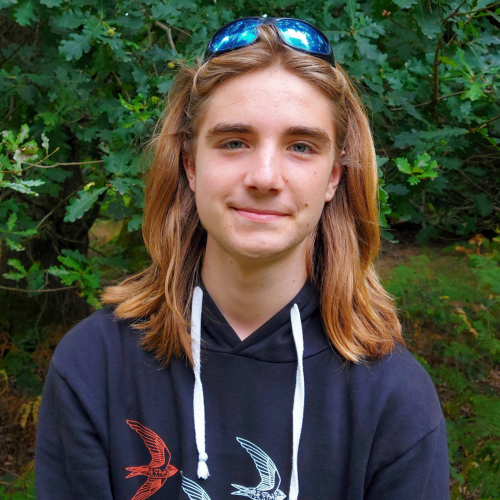 We asked co-host Indy and producer Paul for their feedback on the event:
Indy said, "There was some great content and we covered a wide range of upland issues. I thought it went even better than last year, from my perspective. It was my second year presenting, and I felt more comfortable and confident.
The Hawk Conservancy Trust was a great setting, and everyone was very supportive. We were surrounded by birds of prey, which was very appropriate. I watched a flying display after the broadcast – there were hawks, owls and even wild Red Kites flying around – it was very cool."
Asked what drives him to put so much time into conservation issues, Indy commented, "I've only got 9 days left of college before I finish. My course is Conservation Management and I've really loved that – I have learned so much. I grew up in a house in the middle of Sherwood Forest surrounded by nature and very aware of the changing seasons, watching different birds arrive and leave. Older birders tell me about species that have disappeared, and I want to do my bit to change that."
And Indy's message for young people?
"I'd recommend volunteering. It changed everything for me. The people I've met and the different landscapes I've worked in – I've learned more by volunteering that I ever could on any university or college course. I've been volunteering since I was 14, doing guided walks and practical conservation work."

The man behind the camera on the day, wildlife and documentary film maker Paul Samuels, began preparations for the live broadcast months in advance.
According to Paul, "preparation for next Skydancer Day begins almost as soon as the last one has finished, but I started to prepare seriously in January. I visited The Hawk Conservancy Trust several times beforehand to familiarise myself with the venue. And I travelled to Scotland to film Ian Thompson and the Tarras Valley team, to Wales to interview and film Keith Offord, and to RSPB HQ in Bedfordshire for interviews with Investigations Officer Jenny Shelton, and Senior Conservation Scientist Dr Simon Wotton."
Pulling together all the items that go into the live broadcast takes months of preparation and a lot of travel, and Paul packs all his kit into his trusty Fiat 500.
"It has more space than you think with the back seats down – the secret is in the packing!" he claims.
Paul enjoyed filming at the Hawk Conservancy Trust. "It was a terrific venue. We were filming in what's called the Woodland Area, and we had to time our broadcast in between flying displays and 'raptor experiences'. We were lucky with the weather too."
What are Paul's ambitions for future Skydancer Days?
"I hope that we can extend the reach of Skydancer Day and widen the audience by covering a broader range of issues next year. I'd like to extend our remit to cover re-wilding as a topic. I think it has a lot in common with our own objectives as a charity – restoring biodiversity in the uplands – and it's an important topic for conservationists."
So that's it for Skydancer Day 2023 – "it's a wrap", as Paul would say!
We hope you enjoyed the broadcast, and if you didn't get a chance to watch it live, you can see the whole show on Hen Harrier Action's YouTube channel.
Thank you from Megan, Indy, Paul and all our guests for your support. Don't forget, there are lots of ways you can support Hen Harriers, conservation, and wildlife protection, and we hope Skydancer Day 2023 has given you plenty of ideas and insight.
We'll see you again next year.